On Friday, Nov. 18, one week after Veteran's Day, Where Y'at Seafood threw them a welcome home party shrimp boil, feeding 250 servicemen and women.
"I've got a little program that if somebody deploys and they come back, I'll give them a free meal or if their unit deploys like this one did, I'll throw them a party," said T-Paul Ruiz, owner of Where Y'at Seafood.
Where Y'at threw the party at the Red Horse Compound on Hurlburt Field Air Force Base and the military service members were very thankful for warm Cajun cuisine after being deployed overseas. The menu consisted of boiled shrimp, pulled pork sandwiches and jambalaya.
This isn't the first welcome home from deployment party that Where Y'at has thrown and catered.
"About three or four years ago, a squadron of about 250 came back from deployment. I did giant shrimp and crawfish boil for them when they got back," Ruiz said.
"Then another time, about two years later, right prior to COVID hitting, we had a pig roast/shrimp boil and had jambalaya and all kinds of Cajun food," he added. "We fed 450 people for that one and they had all their families there."
Originally from New Orleans, Ruiz is a 26-year veteran of the United States Air Force who retired as a Chief Master Sergeant out of Eglin in 2014. He knows the sacrifice the military gives first hand.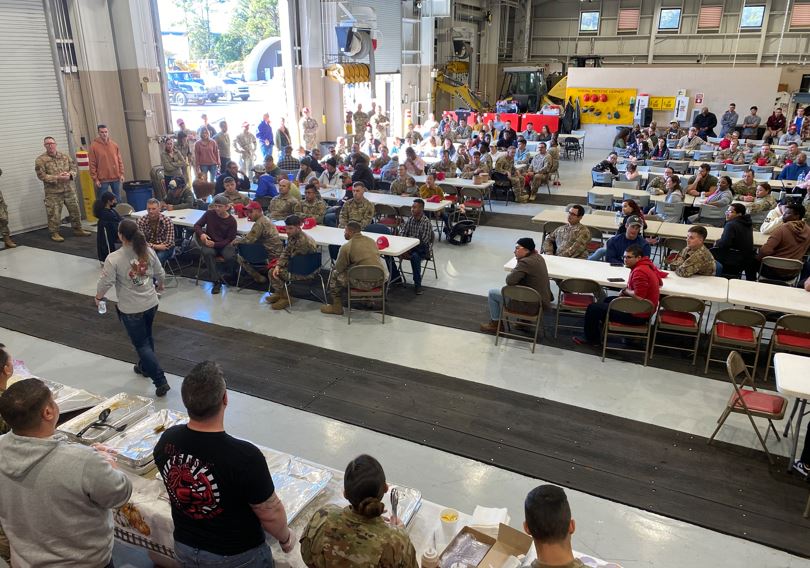 Ruiz said this is a program they started four or five years ago, and he plans to continue it to thank the service men and women who fight for our freedom.
"We're here to honor our military. And if somebody deploys or a group deploys, then we want to take care of them when they get back," he said.
Although it's not a cheap party, Ruiz is happy to help and offer a token of appreciation to these returning servicemembers. A typical catered party of that size would typically cost thousands of dollars.
"For instance, we just did one for 200 people that wasn't military, but the same kind of stuff and it was a $10,000 meal and this is just done for free," he said. "It's a big deal and Redhorse is just the only one that's taken advantage of it. There's other units that can take advantage of it also."
If you know of a troop returning from a deployment, give Where Y'at a call at 833-332-8328 and press option 4 for catering. If you know of an individual returning from a deployment, tell them to stop by Where Y'at Seafood for a free meal of gratitude.
Where Y'at Seafood Market & Restaurant
4233 Highway 87, Navarre, FL 32566
833-332-8328
www.whereyatseafood.com
Hours: Wednesday to Monday 11 a.m. to 7 p.m. Closed Tuesday