Espresso Lane offers 10% off to locals and military
Espresso Lane is the only coffee shop on Navarre Beach. It's the perfect place to stop for your daily dose of caffeine on your way to the beach or sit on one of their comfy couches and stay awhile. All locals and military get 10% off their purchase at Espresso Lane for their loyalty and support.
"I want to support and show my appreciation to our local community because they support us," said Espresso Lane owner Susan Bradshaw.
Espresso Lane is located inside of Andy D's Beachside Restaurant & Deck Bar on Navarre Beach and opened June of 2022. When you walk in the doors, the coffee shop is directly to your right in a window-filled room decorated with beach art for sale.
Espresso Lane has free Wi-Fi and is a great place to get some work done in the mornings in a peaceful environment. The coastal coffee shop is open daily from 7-11 a.m.
Bradshaw had always dreamed of opening her own business and has a passion for coffee.
Espresso Lane opened its original location in Midway back in October 2021, which she called the Red Caboose because it is located right next to her daughter Emma Bradshaw's hair salon called the Red Door Salon.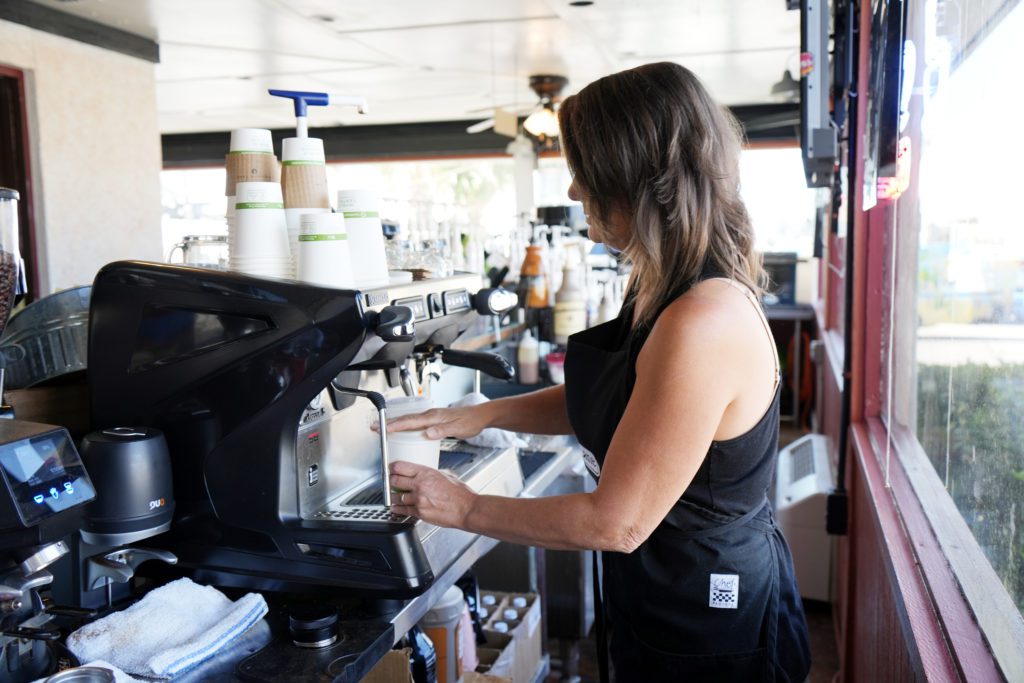 The Red Caboose coffee trailer is a drive-thru coffee shop located at 5177 Gulf Breeze Parkway and is a great place to stop by if you're en route to work or school on U.S. Highway 98. It is open weekday mornings from 7 to 11 a.m. and serves the same delicious drinks that the beach location serves.
Espresso Lane's coffee is locally roasted in Santa Rosa Beach.
At Espresso Lane your health and the environment are very important. The coffee is organic and the cups, lids, sleeves and straws are all eco-friendly and compostable.
"It's important, especially with us being out here on the beach," Susan said. "Our straws are turtle-friendly, and they don't taste like paper."
Susan's favorite drink she serves is the Mexican Chili Mocha, which is made with Ghirardelli chocolate.
"It does something to your pallet and it's just really good," she said. "It tickles your tongue."
The drinks at Espresso Lane come in every form – hot, iced or blended. She also serves Chai tea and matcha green tea.
Some other favorites that are on the menu all year long are Hot Apple Cider and Honey Vanilla Cinnamon, which tastes like the cereal Cinnamon Toast Crunch.
They also carry baked goods and breakfast snacks, including assorted muffins, bagels and baked croissants, which come plain or chocolate for the sweet lovers.
Come enjoy the coastal coffee shop environment with Espresso Lane's comfy couches, free Wi-Fi, and outside decks with palm trees that overlook Navarre Beach. They also have a tray full of free, fun stickers that customers can look through while they wait for their coffee.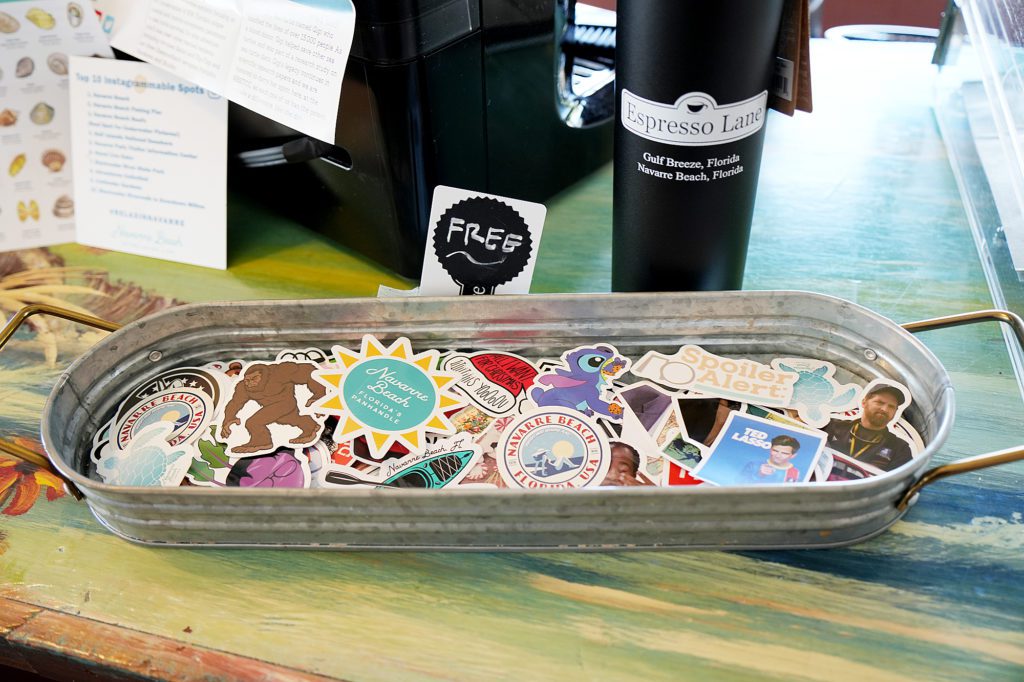 Serving organic coffee that is locally roasted really sets Espresso Lane apart from the rest. The coffee beans are grown without pesticides. It is also fair trade.
"I love coffee," Susan said. "The people are the biggest thing, just getting to know your customers and serving them something they love."
Espresso Lane
Open daily 7-11 a.m.
Inside Andy D's on Navarre Beach
8649 Gulf Blvd., Navarre, FL 32566