Andy D's brings live music, art, 'beach food' to Navarre Beach
Andy D's Restaurant & Daquiri Deck is creating a fun, family-friendly atmosphere on Navarre Beach that is unlike any other. Live music, local art on display and delicious, affordable, coastal cuisine served by a team who cares makes Andy D's the place to be on Navarre Beach.
Andy D's is now hosting karaoke on Monday evenings from 6 to 9 p.m. Come sing your favorite song and enjoy the view of paradise.
The restaurant has the best Happy Hour on Navarre Beach. Every Monday through Friday from 4 to 6 p.m., enjoy half price domestic beers and drafts, $3 well drinks and $3 house wines.
The Andy D's building was built in 1983, making it one of the oldest buildings on Navarre Beach.
"We've got a history on Navarre Beach, and we honor that," owner Andy DeMartin said.
Murals fill multiple walls both inside and outside of Andy D's. The large red octopus painted inside the dining room is a staple to Andy D's and has been named "Ruby." Many guests love to snap a photo with her every time they dine.
The shark mural on the front of the building pays homage to Jaws 2 being filmed on Navarre Beach.
The next mural will be a tribute to the Blue Angels and a memorial to the Black Hawk helicopter crash and it will read "Home of the Free Because of the Brave." All the murals are creations of Tia Wind, a Navarre Beach muralist.
Art is important to Andy D's. Local art from different artists is featured in the dining room and can be purchased.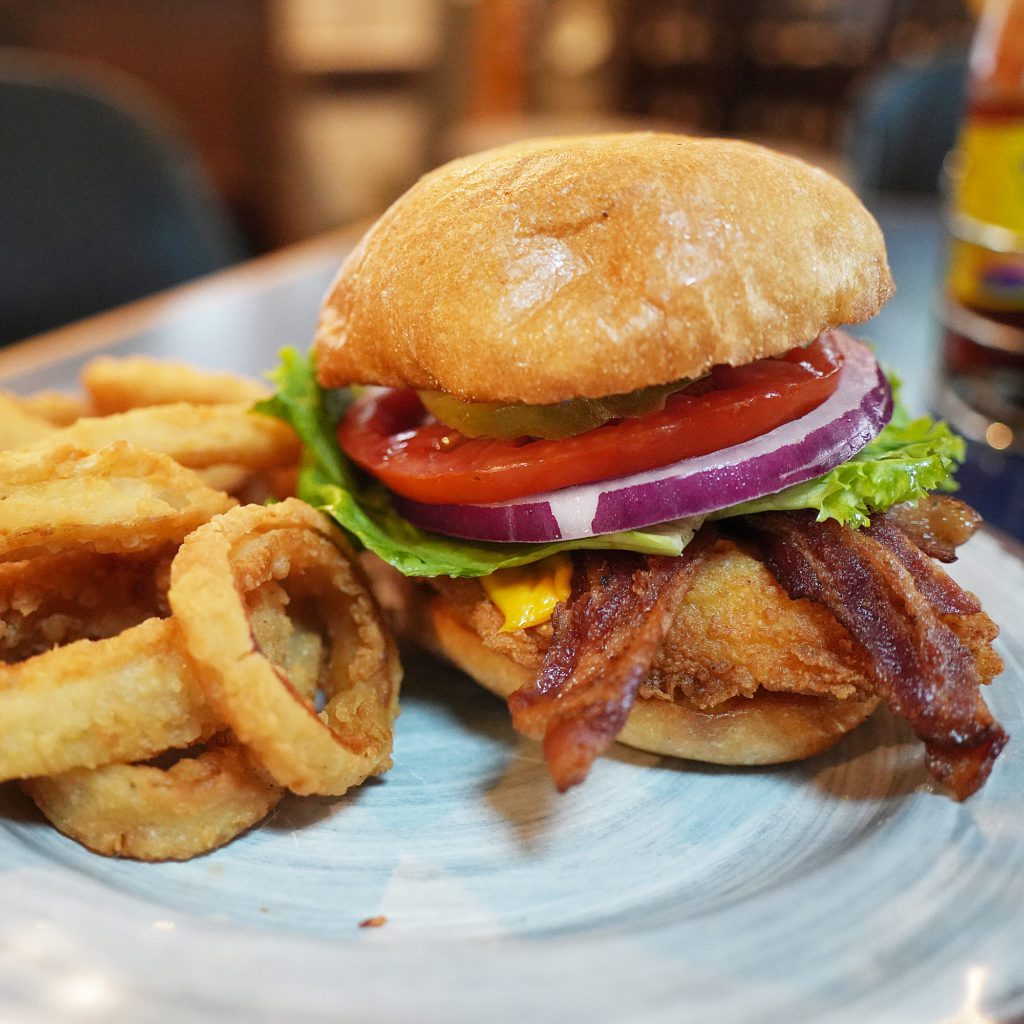 The inaugural Navarre Beach Art, Beer & Wine Festival will be held Sept. 10 from noon to 7 p.m. in the parking lot of Andy D's.
Sample a wide selection of craft beer and fine wines and stroll through the outdoor gallery of local artists, all while local musicians and bands take the stage throughout the day and fill the coastal atmosphere with live music.
Live music is played at the restaurant Friday through Sunday every week. They plan to start hosting open mic nights on Wednesday nights for singer songwriters that are just starting out or seasoned artists alike.
Emerald Coast Songwriter's Association meets in the back room of Andy D's every third Wednesday from 6 to 8 p.m.
Andy values art and live music because they help him to de-stress and stay calm in a busy industry.
"Music and art have always been one of my passions. I think art comes in different forms," Andy said. "I tell our head cook Lori – that's your art."
The locals are important, and Andy D's is focused on supporting the locals to encourage them to come back time and time again and make Andy D's an atmosphere they love.
Every day, locals get a 10% food discount, and all military and first responders get 15% off food. Andy DeMartin is a retired New York City firefighter, so he knows what sacrifice and service mean first-hand.
Andy D's love to support the community through events and donations. On July 7, 8 and 9, Andy D's hosted "Breakfast with the Blues" and donated $1,000 to Healing Paws for Warriors to help provide service dogs to combat vets.
They've also supported the Navarre Beach Sea Turtle Conservation Center and the Navarre Beach Fire Department.
The team at Andy D's wants every restaurant to be successful on Navarre Beach and believes having a variety of options is a great thing for tourists and locals alike.
Andy D's Marketing Director TJ Goulet said they want Juana's/Sailor's Grill, Windjammers on the Pier and Beach House Social to all be successful.
"We need that mix," TJ said. "Because truth is Saturday afternoon that bridge is 50 miles long."
"We firmly believe a rising tide lifts all ships," Andy said. "And we support our neighboring businesses 100%."
The menu at Andy D's features a variety of affordable "beach food." Appetizers range from smoked tuna dip, gator bites and grouper nuggets to fried pickles, crab-stuffed mushrooms and hushpuppies.
As far as entrees go, they have a little bit of everything. They serve pasta dishes like chicken alfredo and lobster ravioli. Platters include your choice of jumbo shrimp, grouper, mahi, fried whitefish, redfish or classic chicken tenders.
A variety of handhelds are on the menu, such as their house burger, chicken sandwich, pulled pork sandwich, mahi sandwich and you can't forget their grouper club sandwich.
Their Mahi tacos are a fan favorite, which also come in shrimp or seared tuna, with options for grilled, fried or blackened.
Don't forget to leave room for dessert with their key lime pie, fried cheesecake, chocolate cake or gluten-free peanut butter pie.
Andy D's
8649 Gulf Blvd, Navarre, FL 32566
(850) 200-0702
www.facebook.com/andydsnavarrebeach/
Opens at 11 a.m. Mon. – Tues. and 7:30 a.m. Wed. – Sun.
Closes at 9 p.m. Sun. – Thurs. and 10 p.m. Fri. – Sat.