All-You-Can-Eat Crawfish Wednesdays at Where Y'at Seafood
Crawfish season has officially commenced at Where Y'at Seafood Market. The season normally runs from February to June, but Where Y'at has been serving crawfish hot and ready, imported straight from Louisiana since Thanksgiving.
Where Y'at Seafood is starting All-You-Can-Eat Crawfish every Wednesday from 3 to 6 p.m. Pay only $30 and enjoy limitless Cajun crawfish with potatoes.
Where Y'at Seafood Market is where you can find authentic New Orleans cooking and flavor at its best without going to Louisiana to find it. Serving cuisine ranging from beignets to Boudin balls, the family-owned market and restaurant are located at 4233 Highway 87, five and a half miles north of Navarre Parkway on the west side.
Where Y'at Seafood is a destination for anyone who loves Cajun and Creole cooking. Come enjoy the restaurant for yourself or bring a taste of New Orleans to your next celebration.
Where Y'at caters any type of event from weddings and rehearsal dinners to birthdays, retirements and office parties. They serve seafood boils with crab legs, shrimp and crawfish (when it's in season), jambalaya, etouffee, gumbo and much more.
"I enjoy making the customers happy. The quality of the food and the service is critical and so important to the success of any event," owner T-Paul Ruiz said. "We get such great feedback from our events and that gives me great satisfaction."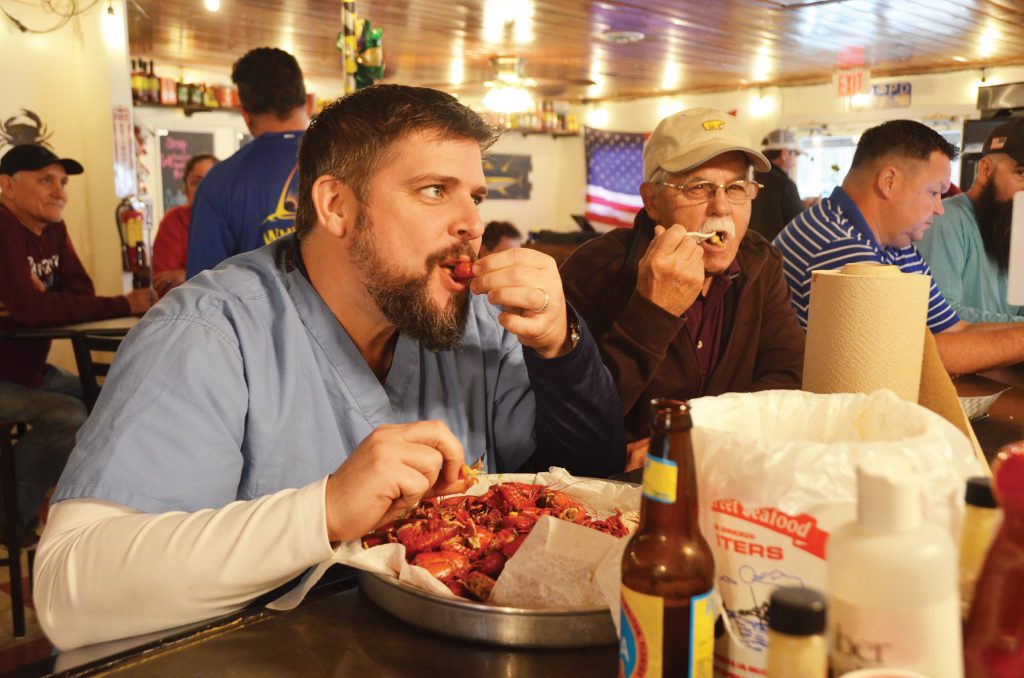 Where Y'at has a bar inside the restaurant, where you can get beer and wine. The large covered outdoor area can be used for parties and live music. There is also indoor seating at the restaurant.
If you are interested in having a party, event or wedding rehearsal dinner at the new event space, call 833-332-8328 and press option 5 for catering. Stay tuned to the restaurant's Facebook for their upcoming events and live music.
Originally from New Orleans, Ruiz is a 26-year veteran of the United States Air Force who retired as a Chief Master Sergeant. He values both military personnel and Cajun food.
Ruiz noted that he offers a free meal to anyone coming back from a deployment and will throw a party for a group coming back from a deployment.
He grew up in New Orleans, where he learned to cook at an early age.
It is definitely a family affair, says Ruiz. His stepsons, Courtney and Will Lumpkin, manage the place and handle the day-to-day operations of the business, which include the seafood market and the restaurant.
Plenty of fresh seafood items are available in the market, including snapper and grouper as well as other popular fish caught locally in the Gulf of Mexico. You'll also find lobster and shrimp in the market.
Where Y'at is hiring and always looking for hard-working employees who are motivated and energetic. It's the place to be for the best in New Orleans style cooking right here in Navarre.
Where Y'at Seafood Market & Restaurant
4233 Highway 87, Navarre, FL 32566
833-332-8328
www.whereyatseafood.com
Hours: Wednesday to Saturday 11 a.m. to 7 p.m.
Sunday 11 a.m. to 6 p.m. Closed Monday and Tuesday