Mick Truitt, a former vendor at the now closed Gulf Breeze Flea Market, has teamed up with Scott Snyder, co-owner of the former Iron Gargoyle Antique Mall, to give the flea market vendors a new home. Truitt is now the manager of The Market.
Truitt said the vendors are happy to be back.
"A lot of people there, that was their livelihood. So going for a month plus without any money coming in, it took a little toll on them. They're glad that it's back together," Truitt said. "Even the people that came in, that was what they did on the weekends. It was a social thing. That was a big thing they lost and now they're happy to see it's back."
You won't want to miss the grand opening Jan. 22 from 9 a.m. to 5 p.m. Vendors will be doing giveaways and there will be sales all day long. The Market will also be raffling off an authentic boxing glove autographed by three world champion boxers – Roy Jones Jr. from Pensacola, Joe Frasier and Miguel Cotto.
There will be three concession trailers set up outside and there will be pet rescue. Antique cars and motorcycles will be set up in the parking lot, and a kettle corn vendor will be outside.
"It's more of a flea market than an antique mall," Truitt said. "We're open seven days a week but it's up to each individual vendor if they're open or not."
Some of the vendors, about six or seven, are open during the week Monday through Thursday. On Friday, about 15-20 vendors are open and Saturday and Sunday all 25 plus vendors are open. Most are inside.
"Outside, that's where the flea market part comes in," Truitt said. "You can come get a spot just for day or just for the weekend."
The interior stays pretty full and there is a waiting list, but The Market is always looking for vendors outside. They have 50 plus tables they can fill.
The Market charges vendors $20 a day on the weekend, which they consider to be Friday, Saturday or Sunday. It is $35 for the full weekend.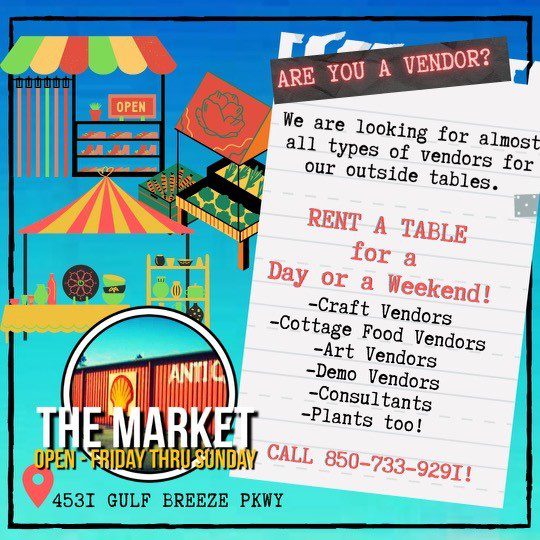 Many returning vendors from the Gulf Breeze Flea Market have set up their booth at The Market and they are thrilled to be back to business. Some of the familiar faces will be Harlan Johnson, a produce vendor, Scott Miller with Slippey's Toys, Jim Flannigan, a shirt tailor, and Dawna Fackrell and Robert Corbett with Little Shop of Wonders, among many others.
There's a little bit of everything at The Market. The space has over 12,000 square feet of floor space and every booth is different.
From collectible Hot Wheels and Diecast cars to comic books to arts and crafts to leather items to custom-made candles to specialty pickles. And that just scratches the surface. You'll have to come and see these treasures for yourself.