Quinn's determination to bring a zoological park to the Pensacola area began in 1960 and was an uphill battle. "I drove around in a '47 Plymouth that I took the back seat out of and put a jackass in the back seat with his tail hanging out one end of the car and his head out the other side." Quinn recounted.
Quinn would take his "menagerie," which included a donkey and a chimpanzee, to area schools. "People donated pennies and nickels to help start a zoo, and that is how it all began," added Quinn.
Quinn's pure will and determination were noticed by several friends who became his financial backers.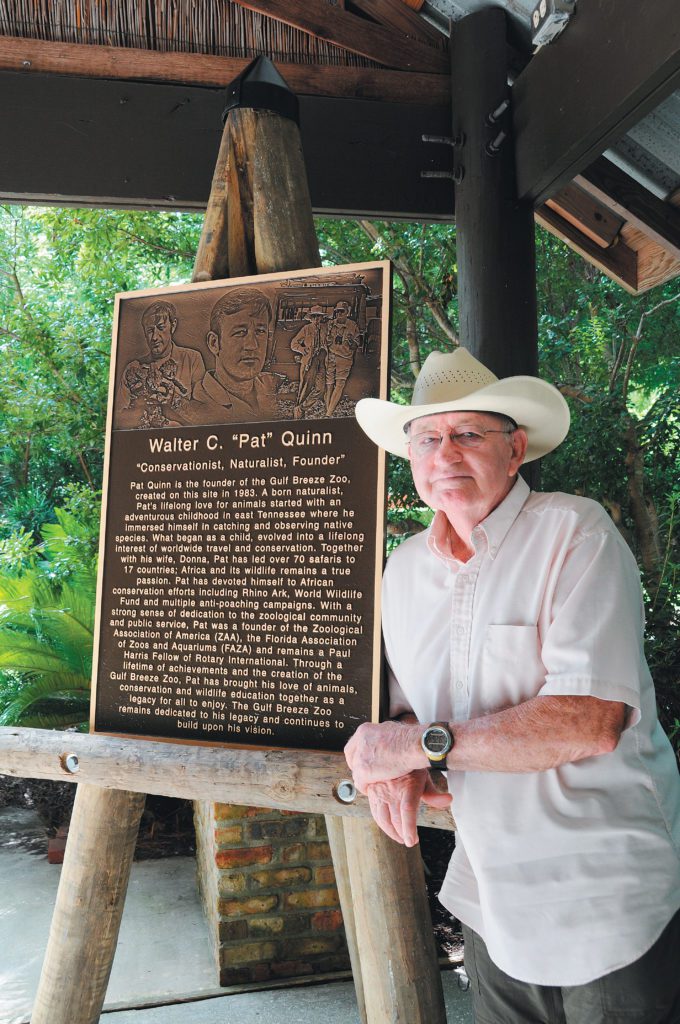 "Taking a raw piece of Florida scrubland and making it a Zoo is impressive, but even more impressive is making that Zoo succeed for over 30 years. With hurricanes, economic chaos and the general ebbs and flows of business, it is truly spectacular," said Eric Mogensen, the owner and corporate director of the Gulf Breeze Zoo. "I know of no one else that has done the same thing — in the same area after failing twice before and expecting different results the third time around and succeeding. Truly remarkable," Mogensen said.
Longtime friend, Dr. Jim Potter, and his wife, Nell, have known Quinn for more than 50 years. The friendship began when Quinn sold insurance to the family. "I always found myself back at the Potter house," Quinn said. They shared many meals together, and that is when Potter began helping Quinn with his first two "menageries" near Pensacola. "Pat would come to the door and ask Nell if Jimmy can come out to play and then we would take off and chase armadillos across the dunes of Perdido Key," said Potter.
Quinn left Pensacola several times to work at other zoological parks including two parks in California, the San Francisco Zoo (where he met his wife, Donna), Lion Country Safari, and Benson Animal Farm in New Hampshire. That is where Quinn's path crossed with Mogensen and Colossus, the gorilla.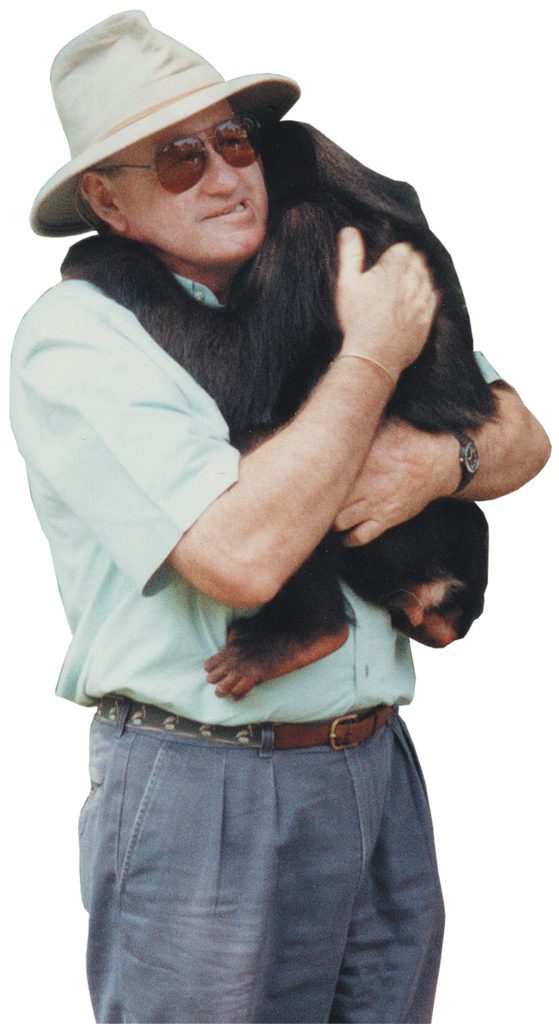 The current owner of the Gulf Breeze Zoo is a former co-worker of Quinn's. Quinn gave Mogensen a job in 1980 as a zookeeper at Benson's Animal Park, which is where Mogensen met his wife, Janet. "Many of my closest friendships that I still have today started at that zoo," Mogensen said. Benson's Animal Park was also the first zoological home to Colossus, the gorilla.
The Gulf Breeze Zoo purchased Colossus in 1986 for $37,500 after Benson's Animal Park shut down. Colossus later ended up at the Cincinnati Zoo's breeding program and died in 2006 at the age of 40 without ever successfully propagating.
Quinn began taking groups of people on Safari when he worked for Lion Country Safari, and to date has led 70 safaris to Africa. While on safari, Quinn would learn of needs there, and bring them back to the Navarre Rotary Club, where he was the chair of International Service. Because of Quinn's concern for the people of Africa, there are now water wells in villages where it used to take hours to go retrieve water. There are also cows for milk where there weren't before.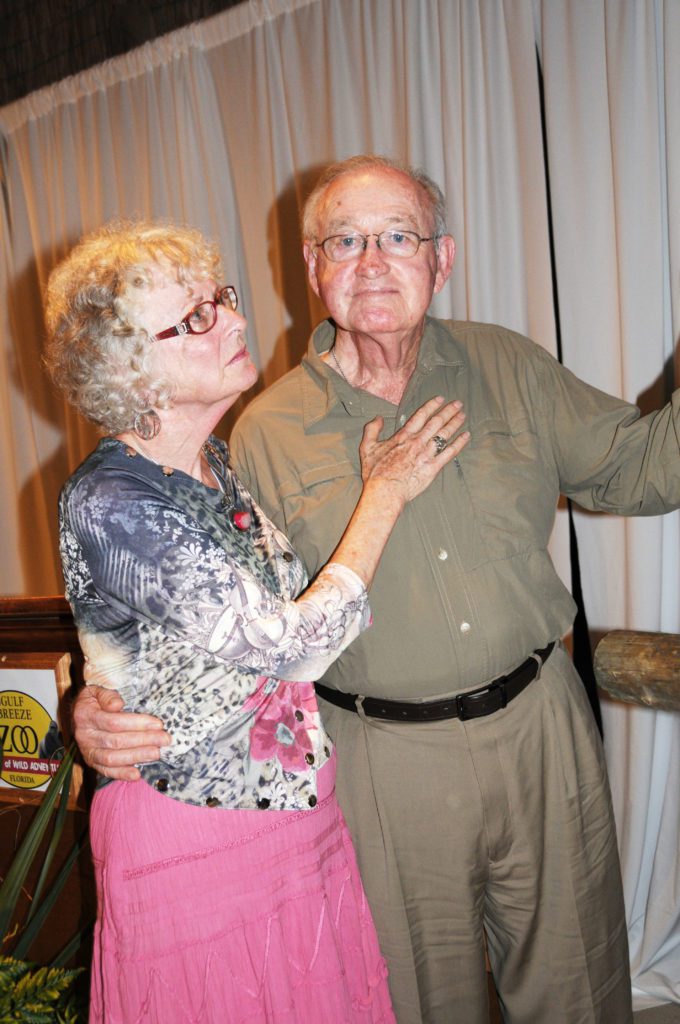 Quinn also facilitated an exchange for a Navarre teenager to go to Africa and an African teenager to come to Navarre through the Navarre Rotary Club.
Quinn's trips to Africa were not always a walk in the park. Potter recounted the time that Quinn got malaria and other diseases while bringing animals back to Lion Country Safari, and was even washed overboard during a storm near Cape Horn. Quinn's family also suffered through a terrorist bombing and spent months in the hospital. In recent history, Quinn, 76, has survived cancer and heart surgery.
"He worked hard to do this and it took a lot out of both Donna and Pat to build this zoo, and he gave up a lot of his life to do so. Looking around you can see his efforts. With the passage of time and the vision of one individual and people willing to go along with it for whatever reason, we have a nice zoo. The moral to this story is, when someone asks you to come out and play – think about it," Potter said with laughter.
"Pat's vision and perseverance are what created the Gulf Breeze Zoo. I'm pleased to be a part of what he created and continue to build upon his strong foundation and his legacy. There have been many changes here since 1983. All too often, the founders and builders are forgotten when changes occur. I didn't want that to happen this time. We are here to honor a man who had the crazy idea to try yet one more time to build a zoo in this area. This is a testament to the grit and fortitude of that man," Mogensen said.