NOTICE OF PROPOSED PURCHASE OF REAL
PROPERTY UNDER OPTION CONTRACT
NOTICE IS HEREBY GIVEN that The School Board of Santa Rosa County, Florida, proposes to purchase certain real property for public educational facilities, auxiliary facilities, and related institutional uses and purposes under an "option contract" as defined in Section 1013.14, Florida Statutes. The property is located within the Midway community, Santa Rosa County, located on Highway 98, south of Government Drive, east of Justice Circle and west of America Avenue, and is approximately 35 acres in size. An area map depicting the property is shown below.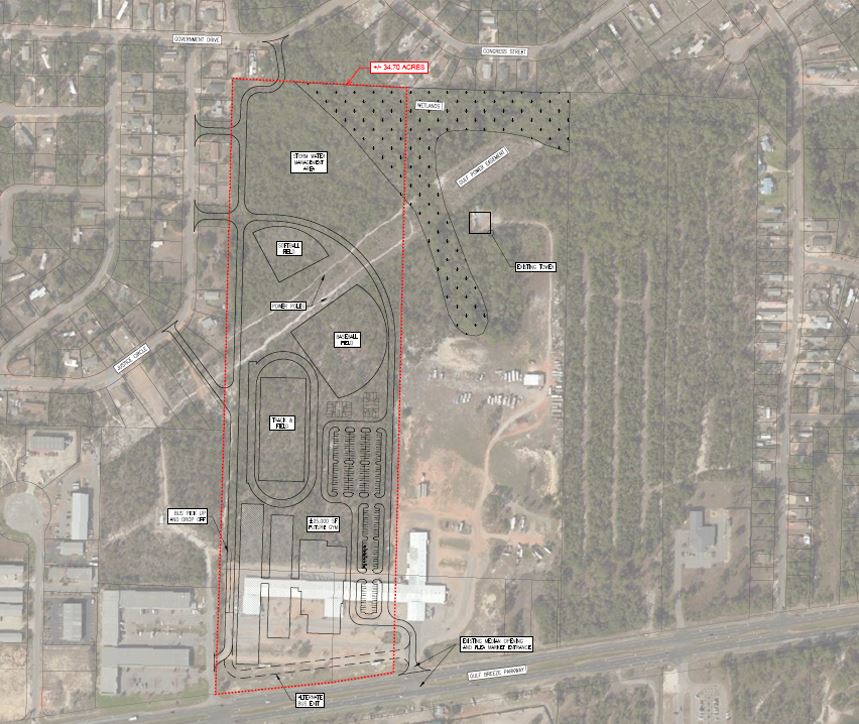 A meeting will be held on September 21, 2021 at 6:30 p.m., or as soon thereafter as the matter may be heard, at Woodlawn Beach Middle School at 1500 Woodlawn Way, Gulf Breeze, FL 32561, at which time the School Board will consider whether to approve an agreement to purchase the described property.
Any person who decides to appeal a decision made by the School Board regarding any matter considered at this meeting or hearing will need a record of the proceeding. For this purpose, an individual may need to ensure that a verbatim record of the proceeding is made, at the individual's own expense, which record includes the testimony and evidence upon which the appeal is to be based. See Section 286.0105, Florida Statutes. If due, to a disability, you need special accommodations to receive School Board information or to participate in School Board functions, please call (850) 983-5010 and ask for the School Board's Executive Assistant.
Dated this 4th day of August, 2021.
THE SCHOOL BOARD OF SANTA COUNTY, FLORIDA
By: Dr. Karen R. Barber, Superintendent of Schools
Publish: August 19, 2021