Indigo Townhomes Rentals provide convenience and community
With Northwest Florida growing, a new townhome community called Indigo Townhomes is bringing a modern and leisurely atmosphere to the area for hundreds to call home. Built in 2021, Indigo Townhomes feature 141 units, including the model that is available for tours. These two-story townhomes have 3 bedrooms and 2.5 bathrooms, and a washer and dryer are included.
As a resident of this new community, you'll enjoy quality amenities like professional landscaping services and interior and exterior pest prevention.
Schyler Potter is the leasing manager at Indigo Townhomes. The dynamic duo enjoys helping residents find their home and feel welcome.
Indigo opened their doors in November 2021. Come check out the beautiful new two-story townhomes for yourself. These single-family rentals have room for you and your family too.
The wood-style floor units come unfurnished and include stainless-steel appliances and smart home technology features. Their expansive kitchens feature a large island with plenty of room to prepare meals.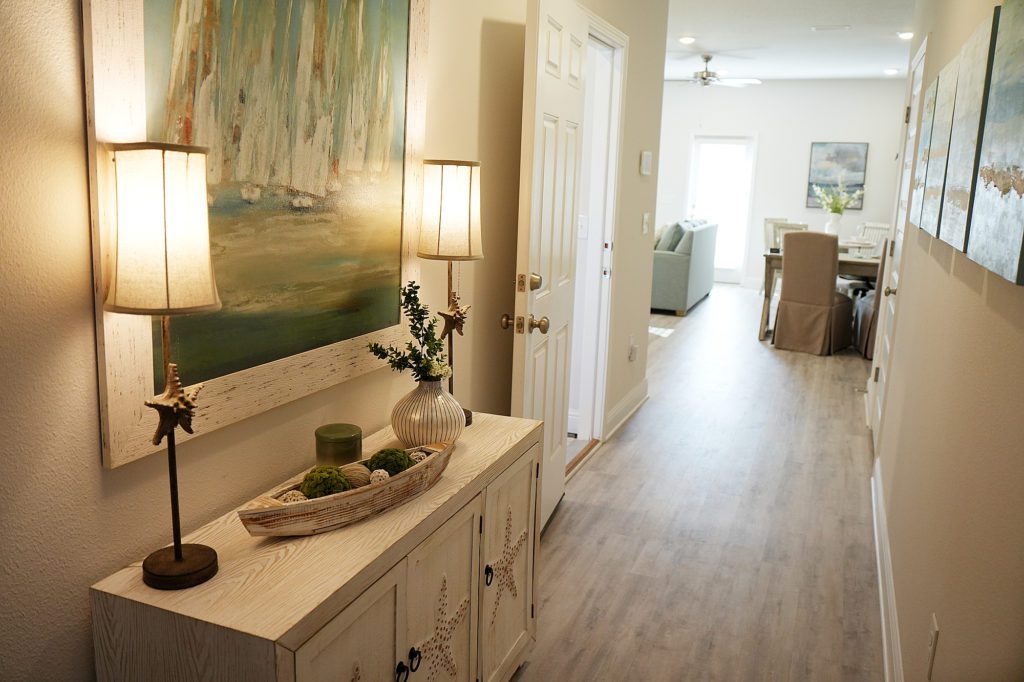 Schyler said the best part about his job is meeting all the residents and their pets. Up to three pets are allowed in each unit and there is no breed or weight restriction.
"I enjoy the new interactions with people, basically making people's dreams come true, especially moving from apartment living," Schyler said. "And this area is just absolutely beautiful, so it's giving some of them an opportunity for a new start."
The location of Indigo Townhomes makes convenience a huge plus. Located right on U.S. Highway 98 in Midway between Navarre and Gulf Breeze, Indigo is the perfect place for military residents, commuters or families.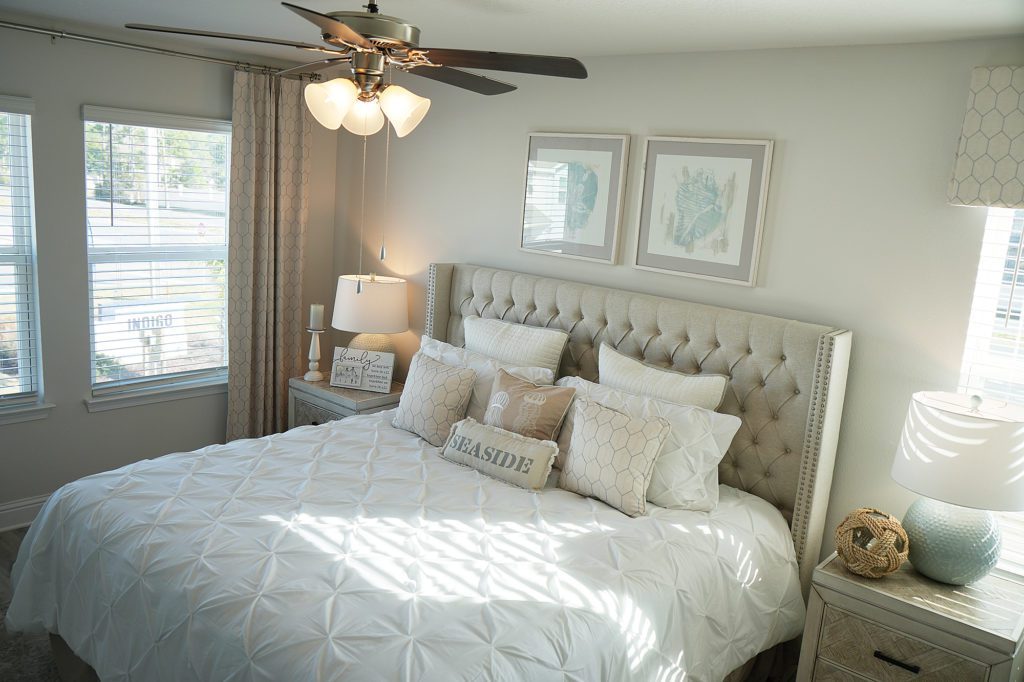 Being in Midway, traffic isn't bad at all. And the townhome community is only an eight-minute drive to Navarre Beach and a 12-minute drive to Pensacola Beach.
Indigo has proximity to the beach without the waterfront prices. Indigo is the only Advanced Precision Group property with a community pool surrounded by relaxing loungers and pool-side seating. The saltwater pool is open all year long from dawn to dusk. There is also an outdoor kitchen, equipped with a quality grill and covered seating area with ceiling fans for residents to enjoy.
The safety of residents is essential, so all units come with ADT security, video doorbells and keyless entry.
Indigo Townhomes has an exclusive contract with Anytime Fitness and all residents are offered 10% off their gym membership, which is only six miles away.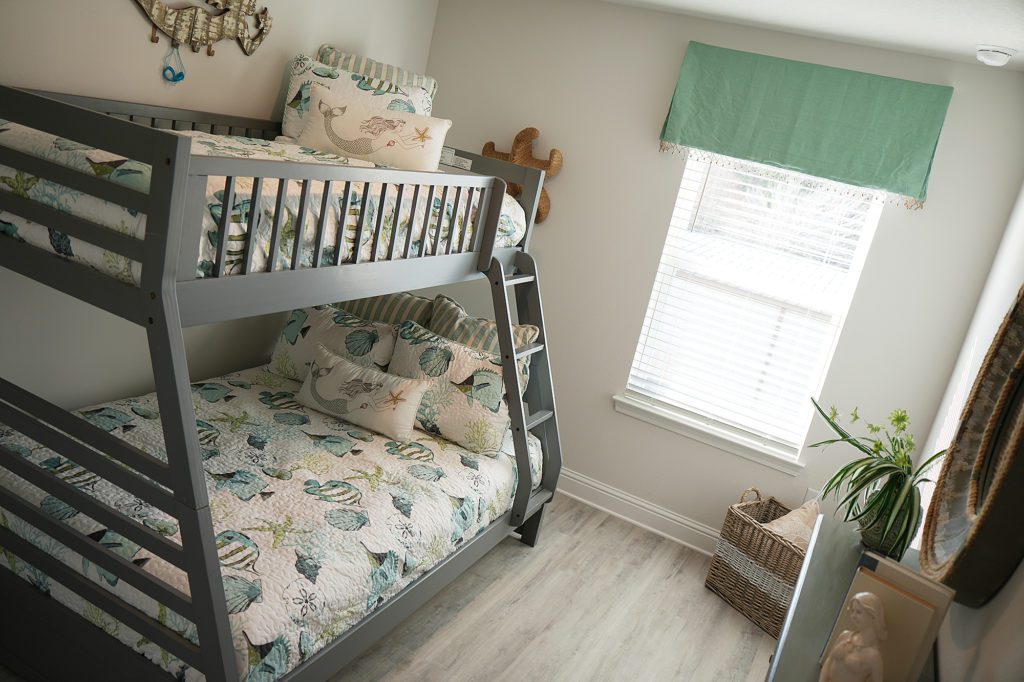 The townhomes range slightly in size and price. All are two-stories with an attached garage. The smaller units are 1,537-square-feet and rent for $2,150 per month, while the larger corner units are 1,567-square-feet and go for $2,350 a month.
The location, modern aesthetic and family-oriented atmosphere are what set Indigo Townhomes apart from other townhomes and apartments in the area.
"I was talking to this lady from Chicago, and she was just astounded that she could afford something like this for $2,150 a month, because she was paying over $3,000 for a one bed little, tiny place and she was in disbelief," Schyler said.
Residents stop in just to say hi to Schyler in the leasing office. He is an integral part of the community at Indigo Townhomes. He doesn't just answer questions about move-in and move-out. He makes the residents feel welcome and cared for.
"We don't take our residents for granted. We want to show appreciation for them because without them, we would not be here," Schyler said. "The fact that they entrust us with providing them a home, that means everything."
It pays to have friends! Indigo offers $500 in rent credit to any resident who refers a new resident. Ask the leasing office for more information on their resident referral program and how to join this neighborly community.
"The people I have gotten to know have been great," he said. "There is a sense of community here."
Call 850-706-7563 and schedule a tour today to see for yourself why Indigo Townhomes is the perfect fit for you and your family.
Indigo Townhomes
1861 Teal Circle, Gulf Breeze, Florida 32563
850-706-7563
indigoth.com
Email Indigo@PrecisionMngmt.com