British Pedlar honors Queen Elizabeth's life of service
The longest-reigning monarch in British history, Queen Elizabeth II became queen at the age of 25 and reigned for 70 years.
Her life and reign came to an end Sept. 8, and she will be missed all around the world. She was succeeded by her eldest son, who will rule as King Charles III.
On her 21st birthday, she made a serious pledge to the commonwealth in one of her famous quotes.
"I declare before you all that my whole life, whether it be long or short, shall be devoted to your service and to the service of our great imperial family to which we all belong."

-Queen Elizabeth II
Two days before her passing, the queen met with Britain's new prime minister Liz Truss on Sept. 6. She was 96 years old.
The British Pedlar team wants to honor and remember Her Majesty and allow her legacy to live on.
"She was known for her sense of duty right up to the end," British Pedlar manager Paula Marlatt said.
After being brought by horse-drawn carriage in a procession from Buckingham Palace that included King Charles III, his siblings, and his sons, Elizabeth II's casket was lain in state in Westminster Hall on Sept. 14. Her casket remained there until the queen's funeral ceremony on Sept. 19. The queue of hundreds of thousands of mourners stretched for miles.
Their beloved monarch has died, and the queue of patient grievers who came to pay their respects were committed to do just that, some waiting over 10 hours.
Even English football (soccer) player David Beckham queued for 12 hours.
People queuing got to know the strangers waiting alongside them, offering comfort, and exchanging stories of their encounters with the queen.
"If I was in England, I would have loved to go, most of us would. It's part of history," said Michael Blois, owner of British Pedlar.
The queen's funeral was Monday, Sept. 19, 11 a.m. British Standard Time. The British Pedlar closed their doors in remembrance of their beloved queen.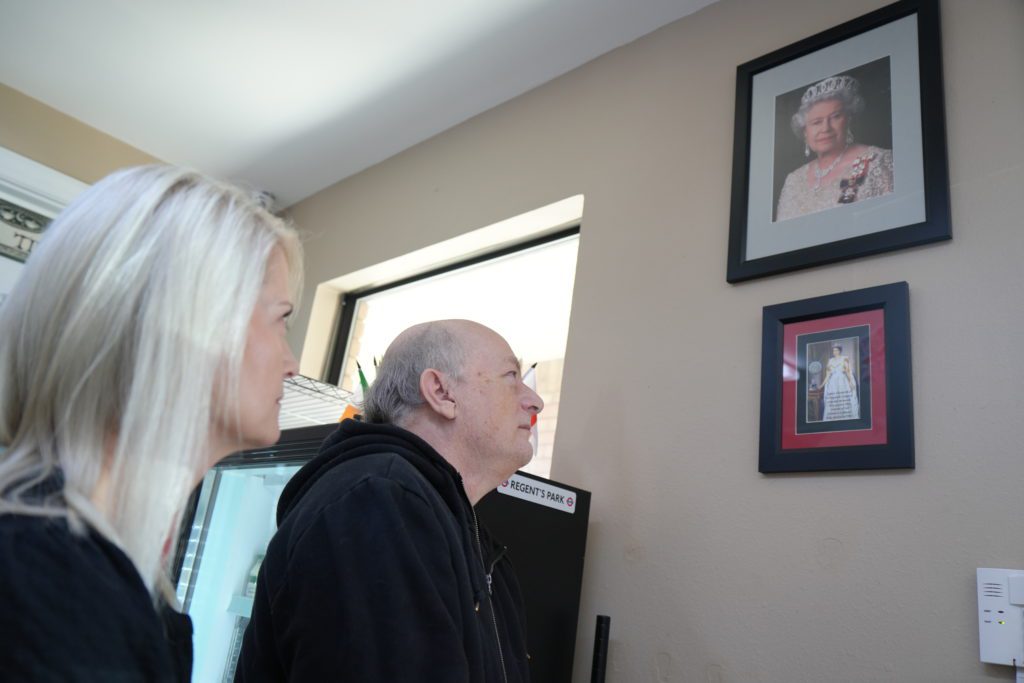 The British Pedlar is ordering merchandise to honor the queen, such as décor featuring her quotes and memorabilia.
Back in February the store celebrated the Platinum Jubilee of Queen Elizabeth II, which commemorated her 70 years of service in the Commonwealth. England celebrated this wonderful occasion in June. The British Pedlar stocked their inventory to honor the queen then as well, including mugs, teacups, saucers and tote bags.
Political leaders across the world have shared their tributes to Queen Elizabeth and the life of service she devoted herself to.
She rose above politics with her diplomatic skills and helped turn adversaries into allies. She brought dignity and courage to her reign and grief is felt world-wide over her passing.
Queen Elizabeth traveled to numerous nations and touched many lives during her 70-year reign. She enhanced the United Kingdom's reputation around the world.
King Charles III has huge shoes to fill as he continues her legacy.
British Pedlar
7552 Navarre Parkway, Suite 19,
Harvest Village Court, Navarre, FL 32566
850-939-9919
Hours: Monday-Saturday, 10 a.m. until 5 p.m.
www.BritishPedlar.com