The original Tigerfish product is a walk-through sanitizing mist system that rids people of germs by simply walking through their misting tunnel.
The product was designed for events, homes and offices. From there they branched out and created on-the-go items that make for a perfect stocking stuffer. And they're all $8 and under!
Hand Gel
Tigerfish Hand Gel comes in a small blue bottle and fits perfect in your purse, car or pocket. It has the same effectiveness as hand sanitizer with the added benefit of moisturizer and Thymox – a botanical disinfectant extracted from the herb thyme that is 99.9% effective against viruses and bacteria. The gel dries quickly and does not leave hands feeling sticky, but rather clean and refreshed. This product is $3 a bottle.
Sanitizing Spray
Tigerfish converted their formula into a sanitizing spray that uses the same natural ingredients as the Tigerfish entryway system with a longer dry time and a longer germ kill time. The spray, which has a pleasant aroma and also comes in a small blue bottle, works great to sanitize workstations, meeting rooms, door knobs and push bars and land-line phone receivers. The product retails at $4 a bottle.
Screen Sanitizer
Phones are dirtier and carry around more germs than we realize, and we routinely put them up to our face. A quick spray or two of Tigerfish Screen Sanitizer and a wipe from the shammy cloth sewn into the back of the bottle for convenience will leave your screen germ free and looking like new. This $8 spray works great for laptops, computer screens and tablets as well.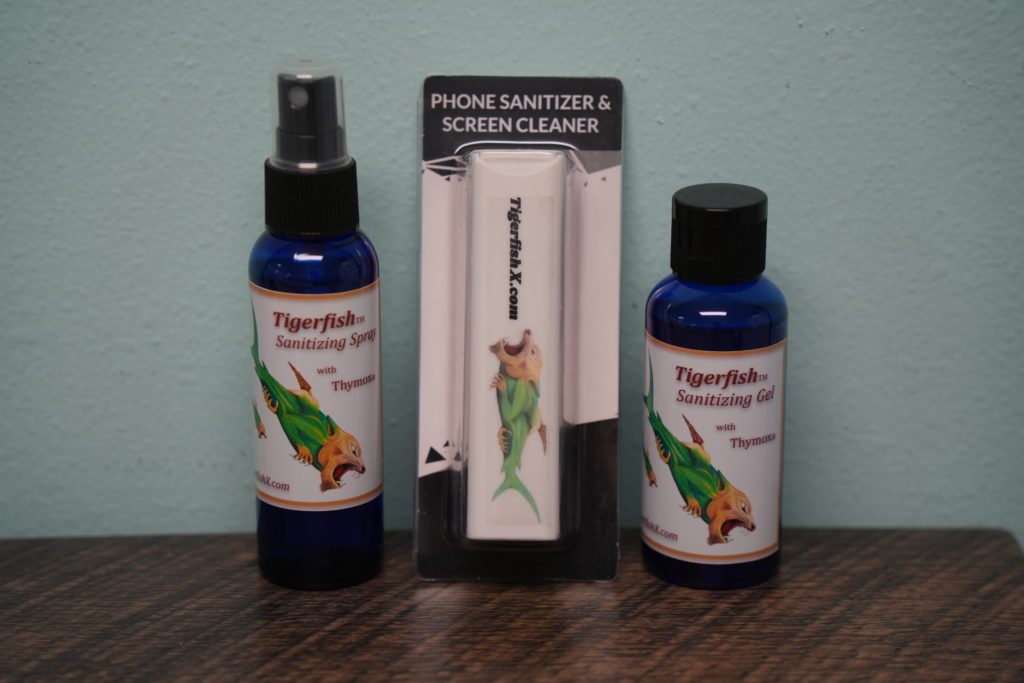 These products make the perfect and affordable Christmas gift. Give Tigerfish a call at 774-484-7374 to pick one up or get it delivered to your doorstep.
Wesley Nielsen and Elizabeth Stitz are siblings and business partners. They started Tigerfish in 2019.
Wesley has a background in engineering and was a test pilot in the Navy and worked in physics and aviation systems, while Elizabeth has a background in chemistry and electrical engineering and worked in research at a Navy lab. They both have numerous degrees and worked together to perfect the Tigerfish formula.
Elizabeth came up with the idea at her Easter brunch. Her family was just conversing around the table and Elizabeth thought this product would provide her aging mother an extra level of protection against general sickness like the seasonal flu and make her feel comfortable. This was before COVID had started.
"Our mother is aging, so she and her friends are concerned about their health. We designed it for our mother, and her friends thought it was really cool and we should do something more with it, so we did," Elizabeth said.
In December 2019, COVID started in China. In March the following year, people started to really read about the pandemic in the news. Elizabeth and Wesley thought about all the people they could help with their sanitizing product.
"This is exactly what people need so they can feel more confident when they visit one another," Elizabeth said.
"Handwashing, social distancing, wearing masks, those kinds of things work great, this covers everything else," Wesley added.
Elizabeth set up a Tigerfish Sanitizing System at their front door, so everyone that came to visit their mom during COVID was cleansed of germs before walking in and their mom was protected. She never got the virus.
The Sanitizing System is a walk-through rectangular structure, made of PVC pipe and lattice. The cleaning liquid travels through the pipe and sprays out of eight misters and rids people of germs and viruses.
Their sanitizing system is lightweight and requires no tools to set up or take down. This can be easily done by one person in five minutes or less. It is available to rent for events and available to purchase for home or office use. The system is also built to suit and can be customized to be any color, size, shape and capacity. Want to see how the sanitizing misting system works firsthand? Call 774-484-7374 to schedule a demo.
Elizabeth and Wesley worked on the formula together and made sure it did not leave any residue on glasses or watches. They then converted it into on-the-go products.
Their custom disinfecting solution contains products registered with the FDA and EPA as 99.9% effective against viruses and bacteria and are safe for skin, hair and clothing. The Tigerfish cleaning solution doesn't just cleanse from COVID, but it is also effective for preventing colds, the seasonal flu and cooties your kids might bring home from school.
Interested in learning more about Tigerfish? Check out their website www.TigerfishX.com and their social media for fun, entertaining videos of how the product works.
Tigerfish ™ Sanitizing Systems
77-44-TGRFSH
774-484-7374
www.tigerfishX.com