Lockhart started with Select Rehabilitation in April 2022, but has been practicing physical therapy since early 2020. He loves helping people. His favorite part about physical therapy is being able to work with the patients and see their progress.
"I love working with them on different activities and exercises and seeing them get better over time," he said.
When he's not helping patients maintain and strengthen their motion, he loves to play tennis, pickle ball and disc golf and enjoys spending time with his wife Gabriella and their 10-month-old daughter Lily.
Lockhart loves to build relationships with the residents and help them reach their full potential. He hosts an exercise class once a week for memory care residents and once a week for assisted living residents. He also hosts events or activities to get the community moving.
For example, on Feb. 8, Lockhart set up a disc golf basket in the courtyard green and brought enough discs for everyone to throw.
Lockhart performs gait analysis with many of his patients, in which he teaches patients to walk again post injury and correct any abnormalities with their gait. He also works with patients on transfer training to be able to transition from their wheelchair to their bed safely and efficiently.
He said each resident's range of motion is different and strength varies, especially after an accident.
Injuries can be a scary thing, especially at an older age. If a resident was hurt or previously in the hospital, Lockhart is able to work with them to strengthen their muscles and capabilities over time. This could be because of a fall or maybe a resident received a total hip or knee replacement.
"We help them get back to their baseline," Lockhart said.
Occupational therapy deals more with activities of daily living, such as getting dressed, taking showers, using the restroom or brushing their hair. Occupational therapy focus more on strengthening the upper body, whereas physical therapy focuses more on strengthening the lower body, according to Lockhart.
Speech therapy works with patients who have communication deficits, difficulty articulating words or getting words out, difficulty swallowing, and those with congitive deficits or dementia.
Luckily, The Beacon offers their residents all three of these types of therapy.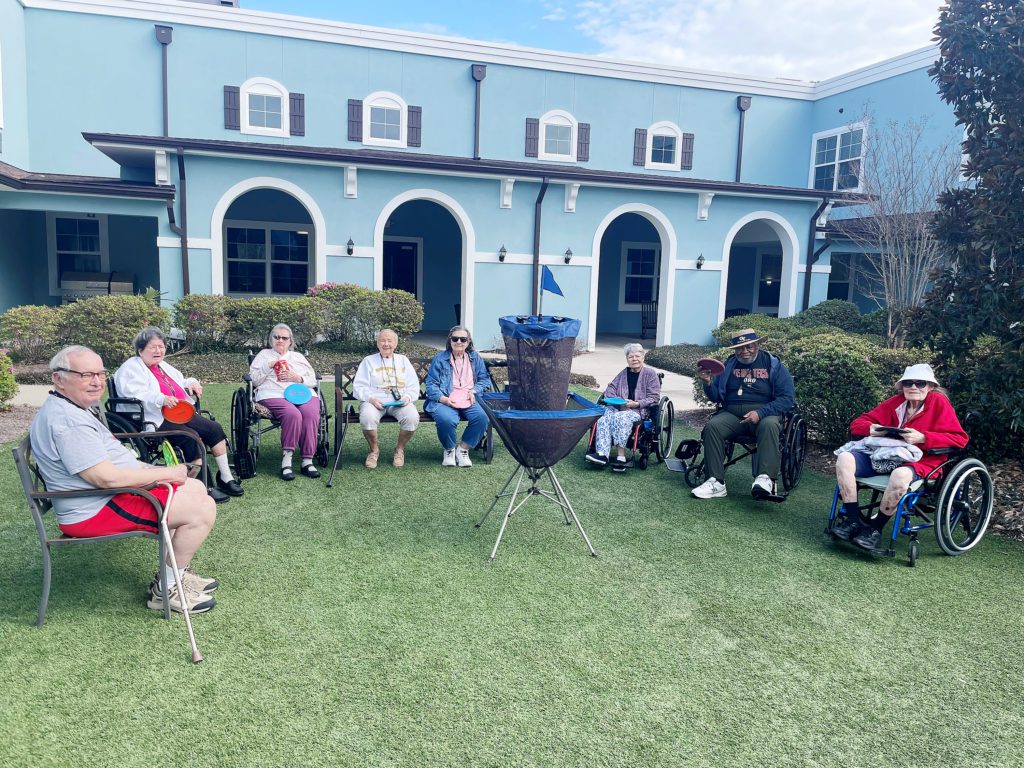 The Beacon gives tours daily and is open to visitors, even if the visitor doesn't know a resident personally.
The Beacon community loves making new friends.
The Beacon focuses on quality of life and has a top-of-the-line memory care unit, which sets them apart from other assisted living communities in our area.
"The atmosphere sets them apart. The Beacon is family friendly and has a very good staff," Lockhart said. "They are very accommodating and help residents whenever they need it."
At The Beacon, residents are enveloped in a caring, protected environment that offers an exceptional array of therapy-driven activities, healthful dining to satisfy the toughest of palates, and spacious common areas for engaging friends and welcoming family.
The Beacon offers spacious studio and one-bedroom apartments with kitchenettes, private baths and courtyard views. Personalized security response systems are available to residents, as are physical therapy and exercise programs.
Other amenities include a card room, a movie theater, a putting green, a salon and spa and restaurant-style dining. The Beacon wants to show their residents honor, respect and dignity.
The Beacon also has a 100% money back guarantee within 30 days of move in if your loved one decides that the community is not the right fit.
The Beacon uses this quote from Tia Walker to reflect on and inspire their staff.
"To care for those who once cared for us is one of the highest honors."
The Beacon at Gulf Breeze
4410 Gulf Breeze Parkway
850-934-4306
TheBeaconSeniorLiving.com
Open for visitation, open for tours