Perfect Blend releases new barista-made summer menu
Baristas from Perfect Blend Coffee Company recently competed in their second annual top barista competition, where they fight for a spot on the summer menu. Each barista chose a category and had to complete their drink in under 1.5 minutes to qualify. The winning drinks were added to Perfect Blend's summer menu, which was released in May.
Perfect Blend Coffee Company is about so much more than a good cup of coffee. Perfect Blend is a movement to start more employment opportunities for adults with disabilities.
The purposeful coffee shop is scheduling monthly socials for the special needs community. With these events, Perfect Blends hopes to provide opportunities for the special needs community and educate the community about the lack of services and increase knowledge of special needs.
In June, Perfect Blend is partnering with Dawn's Cookies to put on a cookie decorating class. Stay tuned to Perfect Blend's Facebook page for details.
"We are trying to really focus on being more than a cup of coffee this year and provide social events and outings for the special needs community and their families," said owner Kalli Clement.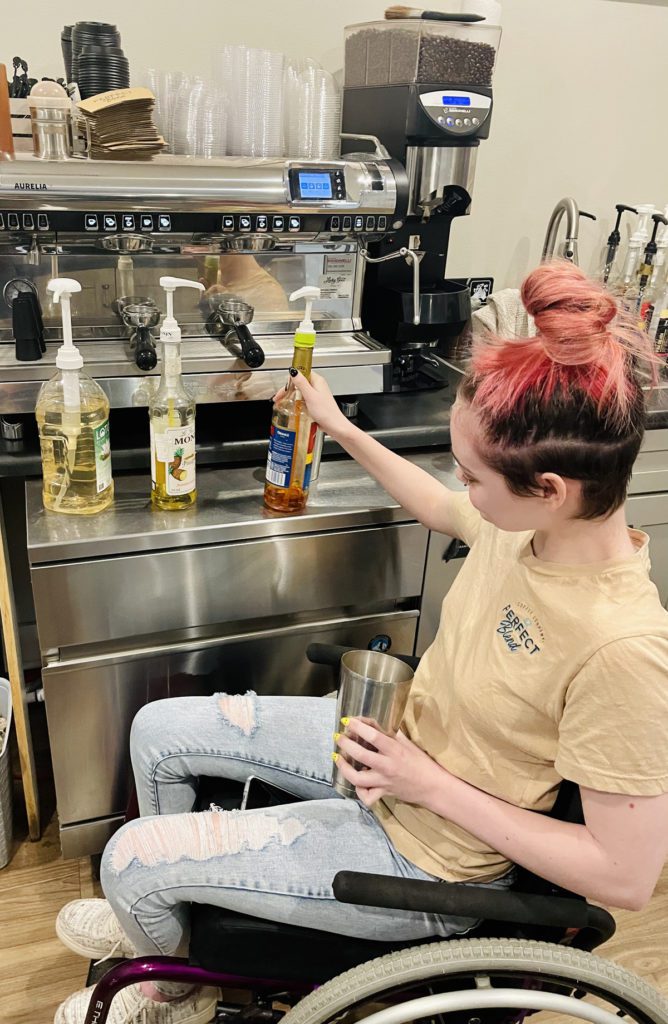 The social events are open to the public. Please RSVP to the events via email or phone to ensure the shop has enough supplies.
Perfect Blend has partnered with Okaloosa Technical College's work program for special needs called Okaloosa UP (Unique Professionals). The program's ultimate goal aligns with Perfect Blend's mission – to help students secure competitive, integrated employment within their communities.
Kalli and Chris Clement opened Perfect Blend Coffee Company in July 2021 to create an atmosphere where people of all abilities can work and learn new skills. One year later they launched their mobile coffee trailer, which is available to rent for events. Book them for your next party, wedding or work event to refresh your guests with some delicious caffeine.
Perfect Blends employs teenagers and adults with disabilities and hopes to inspire other businesses to do the same. During Perfect Blend's monthly staff meetings, employees go over communication skills, resume writing and how to handle communication breakdowns.
When applying to work at Perfect Blend, prospective employees don't fill out your typical application. The questions are a little different.
It looks at their strengths and weaknesses, their fine motor skills and their gross motor skills.
"Are they able to use the iPad, are they able to count money, things that you wouldn't typically look at, but because we're hiring people that may have never been in a work atmosphere, you kind of have to take a look at these things so we're sure to put them in the right spot without overwhelming them," Kalli said.
Using the iPad to take orders can be intimidating at first, but Kalli has added pictures so her employees have a visual key to find the drink.
Kalli has watched her employees of all abilities learn and develop new skills. Kalli said that some of her workers who thought they would just be cleaning have learned how to take orders and make drinks and have learned independence and responsibility. Other employees have learned how to teach and train others and learned patience and modifications.
Come enjoy the perfect cup of coffee served by people with different abilities. Support their mission of inclusion, all while quenching your thirst with a delicious cup of Joe.
Perfect Blend Coffee Company
7552 Navarre Parkway Suite 33
850-710-7210
www.perfectblendcoffeecompany.com
Open Monday – Friday 7 a.m. – 6 p.m.
Saturday 9 a.m. – 2 p.m.
Coffee trailer available for events