Luck of the Irish (Cream) at Deb's Coffee
Sometimes great things happen because of luck and sometimes it's because of greatness. Deb's Coffee Drive-Thru was recently awarded 2022 Business of the Year by the Navarre Area Chamber of Commerce, and it was all due to greatness. Great coffee, great customer service, great value from an all-together great business.
Deb's has different specials each month to fit the season. This month, they're celebrating St. Patrick's Day all March long!
Deb's has four March drink specials for St. Patrick's Day – Kyle, Lucky Charm, Brent and Matcha Green Tea.
All can be made kid-friendly (without espresso) and hot, iced or blended. They have sugar-free options as well.
Shop local and buy some Deb's Coffee merchandise. From coffee tumblers and hats to hoodies and T-shirts, Deb's has got you covered.
They are having a sale on their long sleeve shirts – buy a shirt and receive a 16oz free drink of your choice.
This offer excludes specialty milks or extra espresso shots.
Deb's gear, their unique espresso bean blend and gift cards can also be purchased on their website, debs-coffee.com. Coffee beans come whole or ground and make the perfect gift. A half pound of coffee is $7 and a whole pound is $14.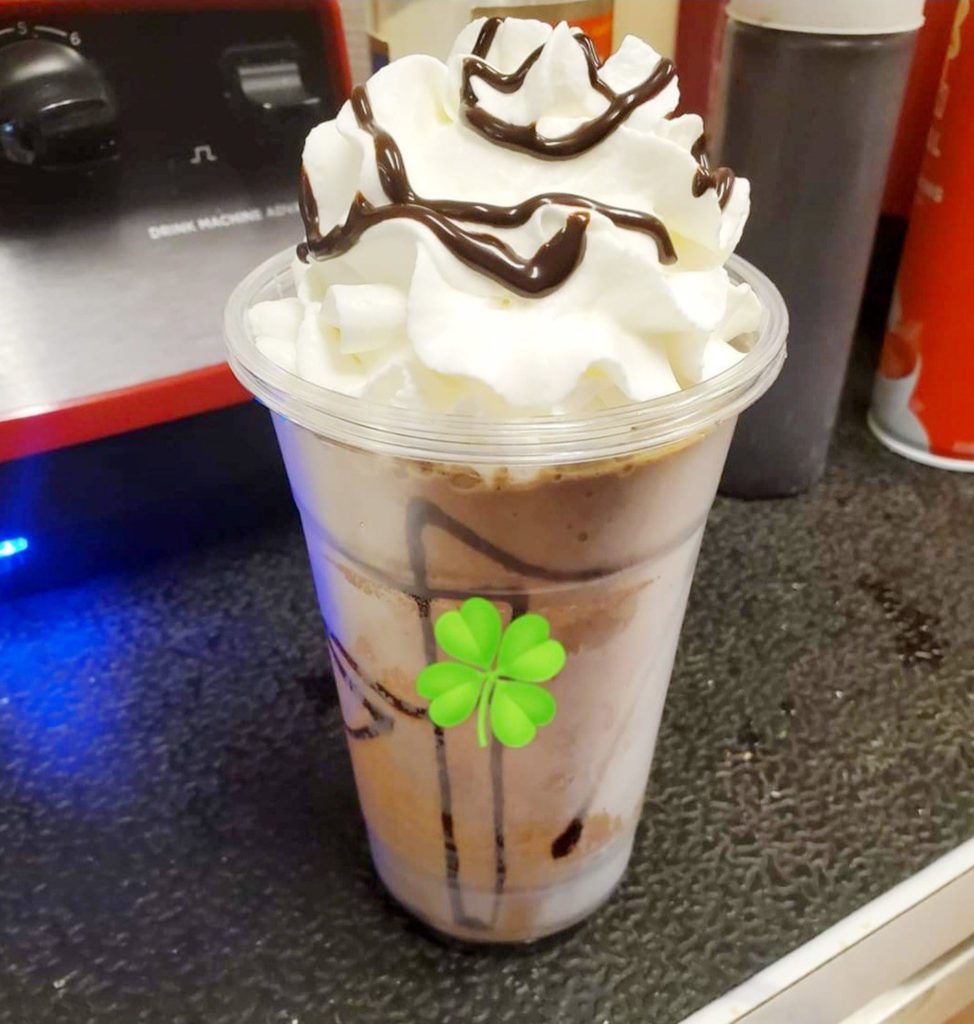 Follow them on Facebook or Instagram and enter their fun March contest for a chance to win free drinks or Deb's merchandise!
Debby Rogers has always loved coffee. Her dream to open a drive-thru coffee shop came true when she and her husband Robert Guinn moved to Navarre in September 2011 and opened their first Deb's Coffee drive thru in January 2012. In 2020, Deb's Coffee Drive Thru opened a second location in Shalimar at 1255 North Eglin Parkway.
This quaint coffee shop specifically caters to people on the go. The staff makes you feel welcomed with a smile, grab a great cup of coffee and be on your way without having to fight for parking or stand in line.
Debby's daughter Tiffany Guinn started working with her mom in the coffee business when she was 23 and now manages both shops.
"I love it and I love working with my parents, family-owned and operated." Tiffany said. "And hopefully one day I can pass it down to my daughter."
The original Navarre location of Deb's Coffee was a 200-square-foot trailer located on the north side of U.S. Highway 98. In 2022, Deb's Coffee expanded to a new 600-squarefoot building, located at 1801 Navarre Sound Circle, to become a more permanent part of Navarre.
They've even expanded their menu to include croissants from a little French bakery that are available three times a week. Deb's also serves muffins, brownie bites and oatmeal.
When Deb's Coffee first started in 2012, they just served basic coffee drinks.
"So, to get Navarre involved, we put up a sign that said, 'Make up a drink, we'll put your name on it,'" Debby recalled. "That started bringing people in and personalized (our menu), made it more like their home because they were like part of our family."
Even to this day, a lot of the drinks on the menu are named after their very first customers.
"I never wanted a sit-down. I always wanted to be the coffee on-the-go, where you get treated really well, you're part of a family," Deb said. "Where you come through, they know your drink, they know who you are. So, we've built that over the years."
Deb's Coffee Drive-Thru
debs-coffee.com
Navarre location: 1801 Navarre Sound Circle, Navarre
850-515-3322 Monday – Friday, 5:30 a.m. – 5 p.m. Saturday 5:30 a.m. – 4 p.m. Sunday 6 a.m. – 3 p.m.
Shalimar location: 1255 Eglin Parkway, Shalimar
850-613-4276 Monday – Friday, 5:30 a.m. – 4 p.m. Saturday 6 a.m. – 4 p.m. Sunday 6 a.m. – 3 p.m.