Windjammers will have football specials on Saturday and Sunday throughout the season. This includes the return of chicken wings.
"I know a lot of people are really happy about that," bar manager Josh Entrekin said.
Wings are offered in a variety of flavors – hot, mild, plain with no sauce, barbecue, garlic parmesan and lemon pepper. Ten wings are served with ranch or blue cheese.
Specials also include pretzel bites served with nacho cheese, fried pickles with ranch and jalapeño poppers. Football drink specials will change throughout the season but will start with $1 off White Claws and $5 Whiskey Cokes.
As far as games go, Windjammers will have the major college football and NFL games airing on their TVs at the main bar upstairs.
Starting in October, Windjammers will be hosting Movies on the Beach downstairs on Saturday nights. A big screen and projector will be set up in front of The Sandbar and people are encouraged to bring lawn chairs and blankets to watch a film on Navarre Beach.
Sunset is around 7:45 p.m. in October, so movies will start at 8:00 p.m. on Saturday nights in October.
Please do not bring outside coolers, food, cups, bottles or beverages and no smoking or vaping is permitted. Parents and guardians, please check ratings of movies for suitability for your children.
Windjammers will have different drink specials that pair with each movie.
Here is the movie lineup for October.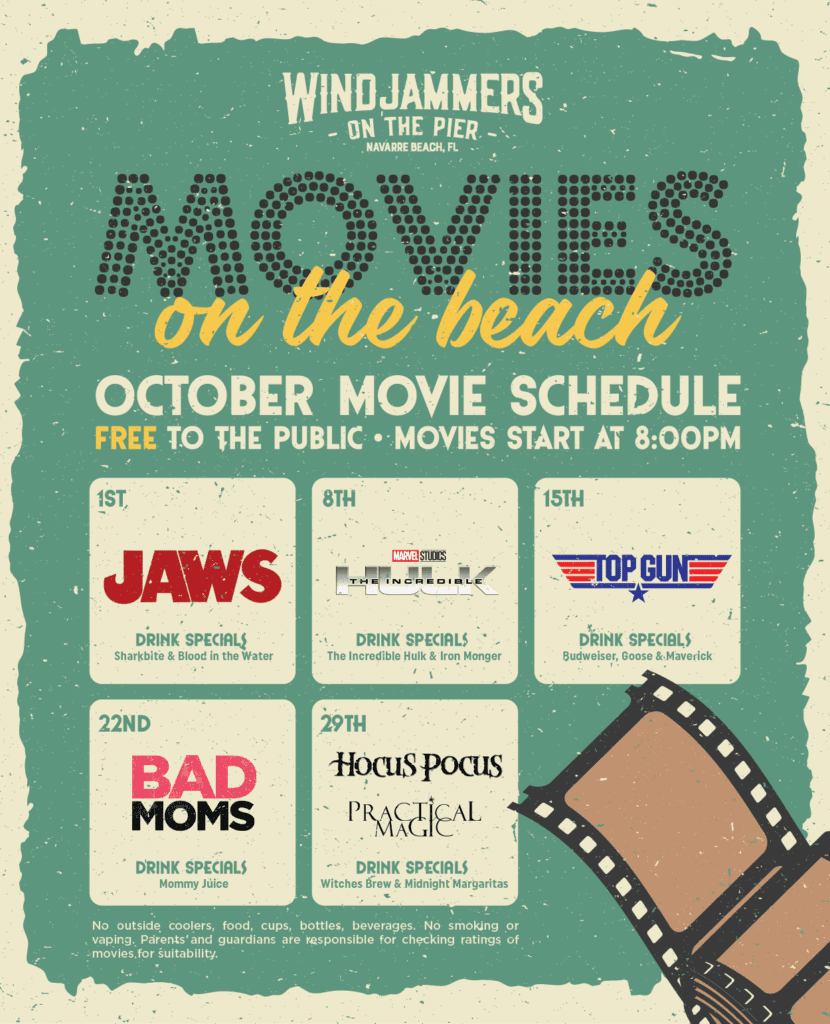 Make sure to stay tuned to Windjammers social media for any changes due to weather.
The coastal restaurant still hosts karaoke on Wednesdays from 6-9 p.m. and occasionally on Fridays as well from 7-11 p.m. Check windjammersonthepier.com/events for upcoming live music.
Windjammers serves fresh fish daily specials along with many beach favorites such as fried oysters and shrimp. Their fish tacos and shrimp tacos are a must-try!
They also has gourmet burgers with Angus, chuck and short rib mix cooked to perfection.
Stop by Windjammers today. You'll come for the food and stay for the views.
Windjammers on the Pier
8579 Gulf Blvd., Navarre Beach, FL, 32566
850-710-3239
www.windjammersonthepier.com