Enhance Your Summer Experience with a New Exterior Kitchen from Suncoast Flooring and Design
Summer is here and it's the perfect time to make your outdoor space more luxurious with an exterior kitchen from Suncoast Flooring and Design. Our outdoor cabinets from WeatherStrong are customizable to suit any space and style, and they are made right here in the USA! We will also manage your entire project from start to finish – all you need to do is pick your colors and design (that's the fun part).
With WeatherStrong cabinets from Suncoast Flooring and Design, you can host outdoor barbeques and gatherings, and create unforgettable memories this summer and for many years to come.
Customizable and Durable Cabinets for Your Dream Outdoor Kitchen
Transform your outdoor space into a culinary oasis with WeatherStrong's exterior cabinets for your dream outdoor kitchen. These customizable cabinets come in four different door styles and 13 color options, so they'll match any aesthetic!
Plus, all decorative hardware, hinges, and drawer runners are made of stainless steel, making them top-rated for outdoor use. They are constructed using precise dowel alignment and a marine adhesive system resulting in cabinets that are strong, flexible, and durable.
Thus, worrying about the wear and tear of our wonderfully unpredictable Florida weather will be a thing of the past— these cabinets will withstand the test of time.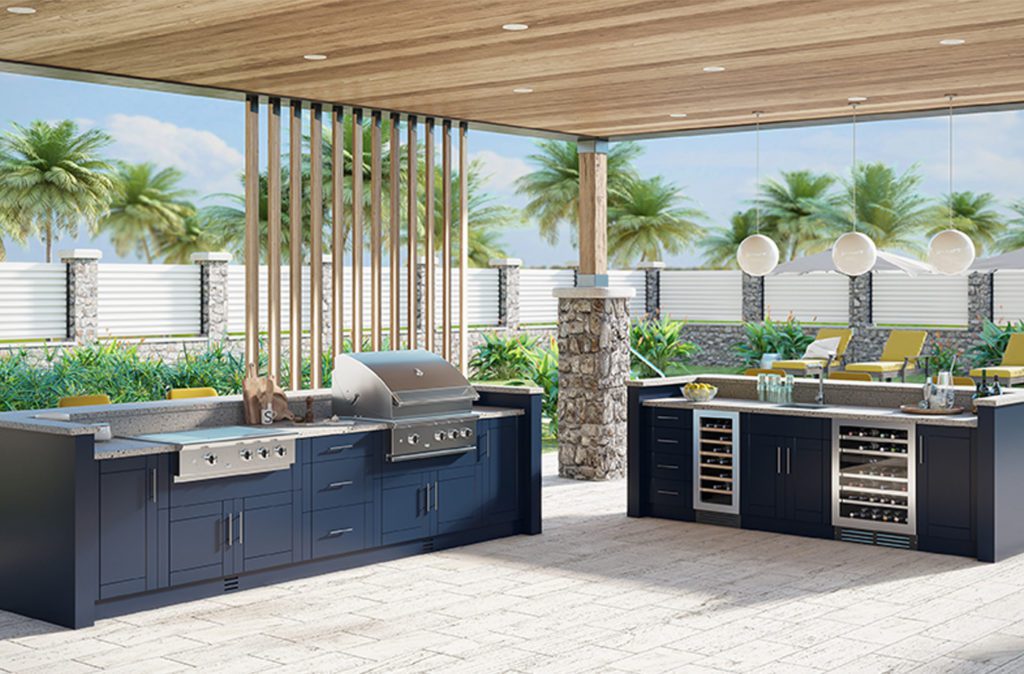 Manufactured in the USA
We're proud to say that these cabinets are manufactured right here in the USA! Not only does this mean high-quality craftsmanship and materials, but it also means faster shipping times for you.
Once the design process is completed, your cabinets will be shipped and ready for installation in just seven to 10 days!
It's a win-win situation: supporting American jobs and getting your renovation done faster. What could be better?
We Provide Installation and Project Management from Start to Finish
At Suncoast Flooring and Design, we're with you every step of the way. We know that designing and completing an outdoor kitchen can seem overwhelming, but don't sweat it.
Our team of experts will provide free design consultations and measurements to ensure your new outdoor cabinets fit your lifestyle perfectly. Once your design is finalized, we will take care of the professional installation, taking full responsibility for managing your project so you can relax.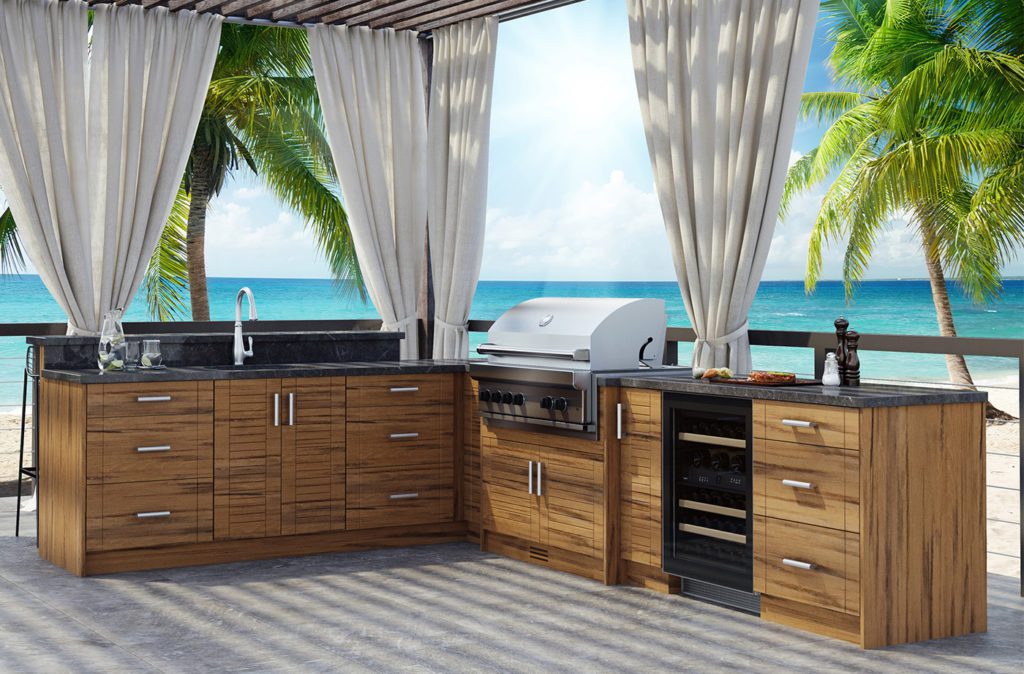 Trust Suncoast Flooring and Design to Build Your New Outdoor Kitchen
Make this summer one to remember with a new exterior kitchen from Suncoast Flooring and Design. With our skilled team of designers and installers, we'll work with you to create a space that is functional and stylish, and perfectly complements your home's exterior.
We look forward to helping you create an outdoor living space that is uniquely yours. Contact us today to get started!
Suncoast Flooring & Design
5668 Gulf Breeze Parkway Unit 2B Gulf Breeze, FL 32563
suncoastflooringanddesign.com
850-932-7474
Open Monday to Friday 9 a.m. to 4:30 p.m.
Saturday and Sunday by appointment only