Anchored Renovations makes bathroom more accessible for local hero's home
Giving back was always part of the business plan for Anchored Renovations. Co-owner Alanna Ammons is thrilled to be partnering with Building Homes for Heros to help with a home addition to make a veteran's life easier.
Anchored Renovations was initially called out to do an estimate for the addition, not knowing it was a Building Homes for Heros project.
With the help of Emerald Coast Association of Realtors, funds were raised for the project. The Air Commando Association spearheaded getting the family connected with Building Homes for Heroes.
After meeting with the project's team, Alanna and her team starting brainstorming ways they could help.
"From that point, we started putting together donations, who could donate what and the whole process," Alanna said.
After speaking with contractors, the brick was done for half the cost as normal and the paint was donated, among other donations.
The veteran homeowner, who lives in Navarre, has beaten cancer and now his son has been diagnosed and is handicap with wheelchair access needed. The project is an addition to the veteran's teenage son's bedroom and a renovation to his bathroom to make it wheelchair accessible.
"The addition had to be where he could function in his room and the bathroom, so that was the whole game plan behind it," she said.
They broke ground on the project right after Christmas and have acted fast. The expected completion of the renovation is late January.
Just like they've helped others, Anchored Renovations can help you too. They are here to make your home renovation dreams a reality.
Their Computer Aided Drafting (CAD) technology allows you to see the finished project before they even pick up a tool to begin.
"It makes a huge difference when you can actually see what your project is going to be," Alanna said. "You can get a full view of the concept of what it's going to look like."
Anchored Renovations is here to help you with all your home renovation needs, whether that be interior or exterior.
Owners Chris and Alanna Ammons are passionate about designing and making your renovation dreams come to life in your home.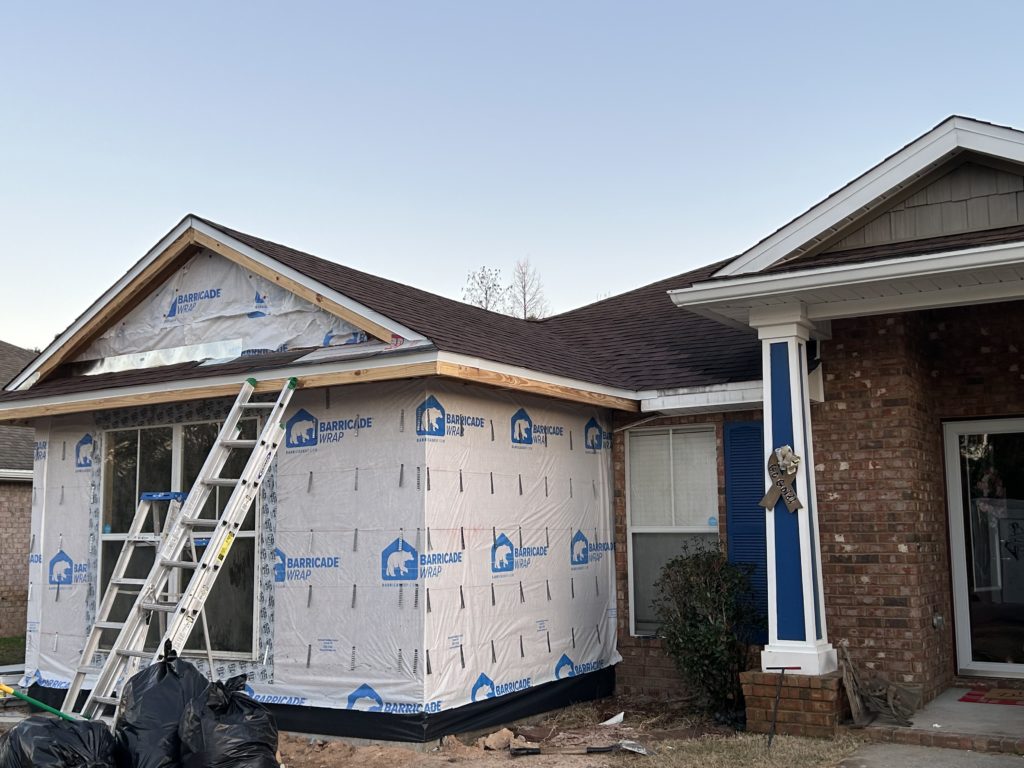 Anchored Renovations services anywhere from Gulf Breeze all the way to Destin, helping turn houses into dream homes, custom made to meet the family's needs. They celebrated 10 years in business this past June.
They work on home remodeling, fencing, room additions and outdoor decks. They also concentrate on new construction and additions, such as garages and covered porches. They can even start from scratch and construct a new build that you've always envisioned.
"We handle everything from start to finish," Alanna said. "Our clients never have to go searching for any particular pieces or parts, whether it be electrical, plumbing, any of the above."
Chris said their products and quality sets Anchored Renovations apart from the other home renovation businesses in the area.
"We have a dedicated crew to each individual job that stay there nonstop, and we work 7 (a.m.) to 3:30 or 4 (p.m.) and that's it," he said.
"And our communication is above and beyond," Alanna added. "We definitely have technology programs that most competitors don't have, which really stands out to clients, especially the ones that don't live here."
Anchored Renovations has apps and computer programs where clients can go to check their status throughout the process.
"We upload photos, and we can put progress in our program. We can put in updates, like the countertops are coming in on this day and when we plan to have things done by," she said. "It's a portal designed to keep an open line of communication between us and them."
Chris loves to see the homeowner's reactions to their finished products, especially the ones that have no idea the remodel is even happening. He likes to see something come up from nothing.
Being a faith-based company is extremely important to Anchored Renovations.
"Our shirts actually say, 'Trust in God, the anchor that holds,'" Chris said. "Of course, we use the ship anchor because we're near the water, but the true meaning of the anchor is that we're anchored in God. Live by faith, walk by faith, and we'll be prosperous."
Anchored Renovations
9466 Navarre Parkway in Fox Den Plaza
850-428-1533
Office hours: 8 a.m. – 4 p.m.
www.AnchoredReno.com